Denton's Professional Pressure Washing Services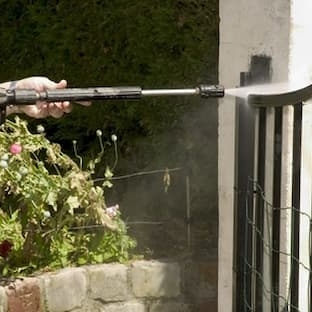 At No Pressure, Pressure Washing LLC, we're more than just your average pressure washing company... we're exterior cleaning pros! Give us a call today if you want a team that will tackle your Denton home's dirtiest grime with safe washing processes and advanced cleaning detergents. You'll be so amazed at the results, you'll think your home is brand new.
Too many companies use traditional pressure washing for cleaning exterior surfaces, but here at No Pressure, Pressure Washing LLC, we use low- and no-pressure alternatives, which means that your Denton home or business will be free from damage. We go above and beyond to provide Denton customers with service excellence! When you choose to hire us, you can rest assured that we'll protect your property as if it were our own. Give us a call today and let's get started on your next Denton pressure washing project.
Roof Cleaning At Its Finest In Denton
Roof cleaning is far and wide one of the most important tasks that we take care of for our Denton clients. It's as essential as inspections and repairs and should be part of your regular maintenance routine! However, make sure you avoid hiring a company that only offers pressure washing. At No Pressure, Pressure Washing LLC, we provide soft washing applications for the more delicate surfaces of Denton homes, like your roof's asphalt shingles. Our low-pressure alternative relies on advanced detergents to do the heavy lifting instead of intense water pressure. This helps to remove harmful contaminants without damaging your roof, plus it helps to prevent the regrowth of organic substances like algae.
House Washing For Homeowners In Denton
At No Pressure, Pressure Washing LLC, we always want to stress to customers that pressure washing is not a DIY job! Of course, many homeowners might think it is because of how easy it is to buy or rent a pressure washer from your local home improvement store, but that doesn't mean you're immediately qualified to do the work. Using exterior cleaning machinery without the proper training or experience can lead to property damage or even bodily injuries.
Additionally, you must choose a pressure washing company that will perform the task with care. Not all companies are the same! Always work with a team that offers different pressure washing options, from commercial pressure washing to house washing to window cleaning and more.
Get in touch with a member of our staff today to arrange for pressure washing for your Denton area home or business.
There are currently no reviews or testimonials; check back soon!
Call Your North Texas Pressure Washing Professionals Today!