No Pressure, Pressure Washing LLC: Whitesboro's Outstanding Pressure Washing Service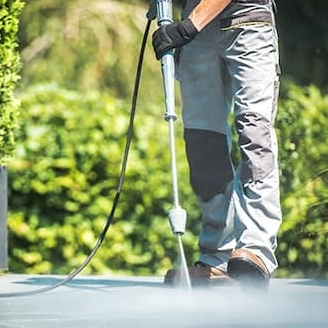 Your Whitesboro home will look its finest after a pressure washing service from the professionals at No Pressure, Pressure Washing LLC. We're certified pressure washing specialists and we're equipped with the best industry-grade tools and tech to remove years of stains and grime from your Whitesboro home. Transform the look of your dull exteriors and say hello to a brand new property! Invest in our many exterior cleaning solutions, which include house washing, commercial pressure washing, driveway washing, and much more!
When it comes to our job, we're not just in it for the results. We're dedicated to providing Whitesboro locals with and clean and safe home or business to feel comfortable in, throughout the year. We're committed to providing the most top-notch pressure washing services in Whitesboro, and that's why No Pressure, Pressure Washing LLC is the team to trust for all of your pressure washing needs.
Restore Your Whitesboro Roof With Roof Cleaning
If your Whitesboro roof is plagued by the appearance of dark and streaky algae stains, we can help! Our services include roof cleaning that can effectively remove the most stubborn stuck-on mold, dirt, algae, and grime. Our roof cleaning will boost your home's curb appeal as well as its value, and your roof's lifespan will see an improvement as well.
It's vital to include roof cleaning as part of your home's regular maintenance plan. At No Pressure, Pressure Washing LLC, we provide this service along with other pressure washing and soft washing services that are guaranteed to make the mold and algae stains disappear for good. When you hire No Pressure, Pressure Washing LLC for your Whitesboro home, we take years off the appearance of your home, so you are left with an exterior that looks brand new!
Wash Away Years Of Grime With Whitesboro House Washing
The natural elements sure do take a toll on your Whitesboro home over the years, and without periodic maintenance, your home will only become vulnerable to permanent damage if not addressed quickly. House washing, however, comes with a host of benefits for you and your Whitesboro home. You can increase curb appeal, protect your family's health, prevent damage from natural wear and tear, and increase your property value. With all these positives, there should be no reason not to consider adding pressure washing to your home's exterior care routine!
At No Pressure, Pressure Washing LLC, we're proud to be your one-stop shop for all your pressure washing and exterior maintenance needs. If you're interested in scheduling a pressure washing service for your Whitesboro home, call No Pressure, Pressure Washing LLC today!
There are currently no reviews or testimonials; check back soon!
Call Your North Texas Pressure Washing Professionals Today!